Roundtone
Multitrack Tape emulation with delay
Simple interface. Punch and Tone.
Quick features list
Quick listening
Downloads
Buy now!

- stereo

- several algorithms

- transparent

- "emphasis" control

- optional 2nd stage

- light on CPU

- latency-free (opt)

- multitrack linking

- oversampling

- tape delay

- B enhancer

- wow and flutter

- flange

- noise

(dry, tracks effected, master effected, master emphasis, dry)

(bassdrum, snare, panoramics, bass through tape)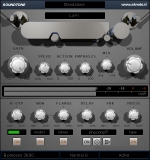 (click to enlarge)
Roundtone VST effect
Roundtone is a tape emulation software.

It adds typical tape recording interesting side-effects to every audio track.

Useful on single tracks (mono/stereo) and on submixes/mixes.

Very light on CPU and latency-free, adds punch, color and gently compresses the sound.

Includes several algorithms (different tape, saturation curve, color, response). More to came in future free updates.

"Emphasis" control adds color while preserving the high frequencies.

Includes an optional 2nd stage of saturation (head).

v.2: Multi-track and Multi-machine modes. Link several tracks to the same Tape Machine to control from a single interface. Trasform any host to a virtual Multitrack Tape Recording system

v.2: Multimode oversampling (with optional "on export" mode for low cpu load). Hi-Quality (non linear phase, IIR) and Super-Quality (linear phase, FIR) oversampling. Select "Now" modes for realtime, "Export" modes for rendering

v.2: 7.5ips algorithms and "Dirty" algorithms for more harmonics

v.2: dry/wet mix knob with sample accurate alignment

v.3: New B enhancer

v.3: Stereo Tape Delay with synch

v.3: Wow and Flutter

v.3: Flange

v.3: Noise

v.3: New "Bright Formula" and "Lo-Fi" algorithms

v.3: New meter
Available as Win32/64 VST, Mac32/64 VST/AU and soon RTAS
Tutorial page - examples, sound samples and presets
Demo by Matt Bentley (mattbentley_dot_net)
On all submixes except drums and background synth (used it on background strings). Partial usage on vox.
Pop-Electro demo by Giuseppe Novella
Demo by G. Novella - through tape
Roundtone on every track
Sax performance (mid-side recording)
Recorded by Christian Spataro
Roundtone inserted and bypassed several times.
Demo by Mauro Ghilardini
Roundtone on every track
Demo by Rifftrax at KvRAudio.com
Roundtone on every track and a bit on the master bus